<!========= Cool Timeline PRO 3.0.2 =========>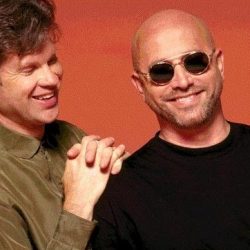 The Tommy Funderburk Story

February - 2009
PayArtists
In 2009, Tommy started PayArtists, a startup company whose goal it was to get artists paid by leveraging peer-to-peer music download data.  It would eventually become Muzit, Inc.
January - 2007
Muzit
Tommy is currently the CEO and founder of Muzit, a Peer-to-Peer monitoring and monetizing venture.  Muzit tracks the downloading behavior of file-sharers, and allows copyright owners to connect with these fans through the Internet Service Providers (ISP's) to offer discounts, promotions, donations, concert tickets
June - 2005
Anything for You
In January 2005 the Italian record company Frontiers released Tommy Funderburk's debut album Anything For You, an album featuring several songs co-written by Funderburk, Michael Thompson, Bruce Gaitsch and Greg Mathieson in the style of Toto
March - 2004
Sovereign Artists Label
In 2004 Tommy Funderburk co-founded Sovereign Artists, a record label that  released Jupiter's Darling, the first Heart album in ten years.
April - 1998
West Coast All Stars
In 1998 Tommy recorded an a cappella album, with the vocal group West Coast All Stars featuring Tommy, Chicago's Jason Scheff, and included Bobby Kimball  and Joseph Williams formerly of Toto, entitled Naturally
September - 1995
Funderburk/Miner
In 1995 Tommy Funderburk and bassist David Miner, who Funderburk had known since the days of Andrae Crouch, recorded and released an acoustic collection of songs entitled The Dwelling Place
June - 1994
King of Hearts
In 1988 Funderburk met Bruce Gaitsch. They worked together for several years. The song King of Hearts, was a tribute to Roy Orbison which was later included on the King of Hearts album and also became the name of their band. The album was released in Sweden in 1994.
May - 1989
Starship – It's Not Enough
In 1989 the song It's Not Enough (from the Starship album Love Among the Cannibals), was performed by the group Starship. Written by Tommy and Martin Page, It's Not Enough rode the Billboard charts for twelve weeks and reached No. 30.
July - 1987
What If?
In 1987 Wilson and Funderburk reformed their band, brought in yet another former Seawind member, keyboard and sax player Larry Williams. They changed the name of the band to What If, and released a self-titled album on RCA Records
June - 1986
Running Scared Soundtrack
Tommy Funderburk did the lead vocals on a track called Never Too Late To Start for the movie soundtrack Running Scared. Tommy also participated on an album entitled Voices with a song called Lift up My Voice
April - 1983
The Front
In the early '80s Tommy met drummer Bob Wilson from the group Seawind and  in 1983 they formed the group The Front. The Front recorded a self-titled album, followed by a U.S tour and a European tour the following year.
July - 1980
Airplay
David Foster and Jay Graydon were looking for a singer for their project Airplay, a role that fell to Tommy.
June - 1975
Sanctuary
Tomy's musical interest began in college where like most musicians he started a band. Tommy's band was called Sanctuary.